Counting the benefits of a given act or tool is what each and every person can do, but assessing the true value of things is only possible through analyzing statistics on said act or tool. That's why, every now and then, we should keep our peace, look at things objectively, and let the numbers do the talking. In this blog, we're gonna put virtual staging on trial.
Why Look for Virtual Staging Statistics?
Virtual staging statistics help us in several aspects. On the one hand, it gives us a clear picture of how the community perceives the virtual staging service. On the other hand, it lets us know if it's really the best practice or if we should seek other alternatives. Last, but not least, it allows advocates of virtual staging to find the weak spots and come up with plans for improvement.
The Profile of Home Staging 2023
As far as real estate marketing is concerned, a property must look highly appealing to potential buyers so that it remains on the market for only a short time, and for that matter, sells for a higher price. No matter how many fixes or major renewals a for-sale property needs, it must be improved, prepared, staged before it is listed. In fact, one could argue that "staging" is an inseparable part of any home transaction.
In an attempt to assess clients' and agents' beliefs on the value of home staging, the National Association of Realtors (NAR) obtained data from 1,921 realtors. The findings have direct and indirect implications for real estate virtual staging. Let's take a look at some of the statistics that NAR has published in its 2023 profile of home staging.
Different Modes of Property Showcasing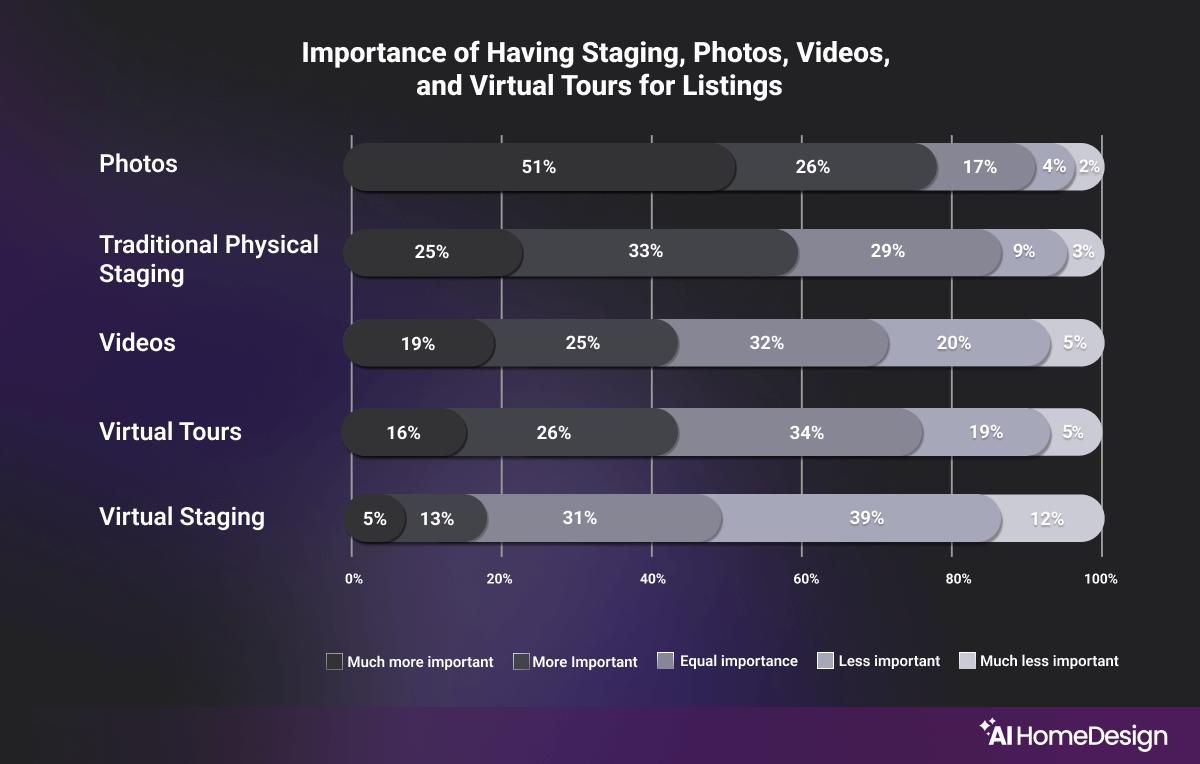 One line of NAR's profile of home staging was concerned with comparing different methods of staging the property. Participants were asked to share their opinions on the importance of five variables, namely, photos, videos, virtual tours, virtual staging, and traditional physical staging. Overall, the following results were obtained.
%51 of buyers' agents and %72 of sellers' agents reported that their clients put the greatest value on photos compared to other means of depicting the property (in comparison with videos, physical staging, etc).
Also, %26 of buyers' agents believed that, to their clients's minds, photos were as important as other means of depicting the property, while only %17 percent of them thought of photos as less important.
Regarding "traditional physical staging," %25 of buyers' clients reported that their customers considered "physical staging" as the most important tool while %33 of them stated that their clients viewed traditional physical staging and other ways of showcasing the property as equally important.
Interestingly, %29 of them, that is almost one-third, reported that their clients considered traditional physical staging to be less important than other common means used for real estate listings.
When asked about the importance of "virtual staging," %18 of buyers' agents reported that their clients considered "virtual home staging" the most important factor.
%31 of buyers' agents, along with %24 percent of sellers' agents, reported that their clients saw virtual staging as important as other means of representing the property.
This is quite an improvement for the practice of virtual staging as, in NAR's earlier reports, it wasn't considered important enough to be included in the research questions. As virtual staging is a much younger practice than other means of showcasing real estate, we can assume that, within time, it can potentially gain much more attention.
I know! Seeing staged photos and visiting an empty place could prove challenging. When buyers visit the property in person and see something different from what they've come across in photos, their passion will be dampened, and they may not like the place.
But, we can't generalize this. Some of the visitors would certainly take a tour, and who knows if one of them falls madly in love with the house! This is more probable if you know about the buyers' favorite styles and stage your property according to their taste.
The fact that %25 percent of buyers' agents valued "physical staging" is interesting, too. Seems like its high costs and maintenance issues are more unbearable than ever, especially now that there are less expensive alternatives.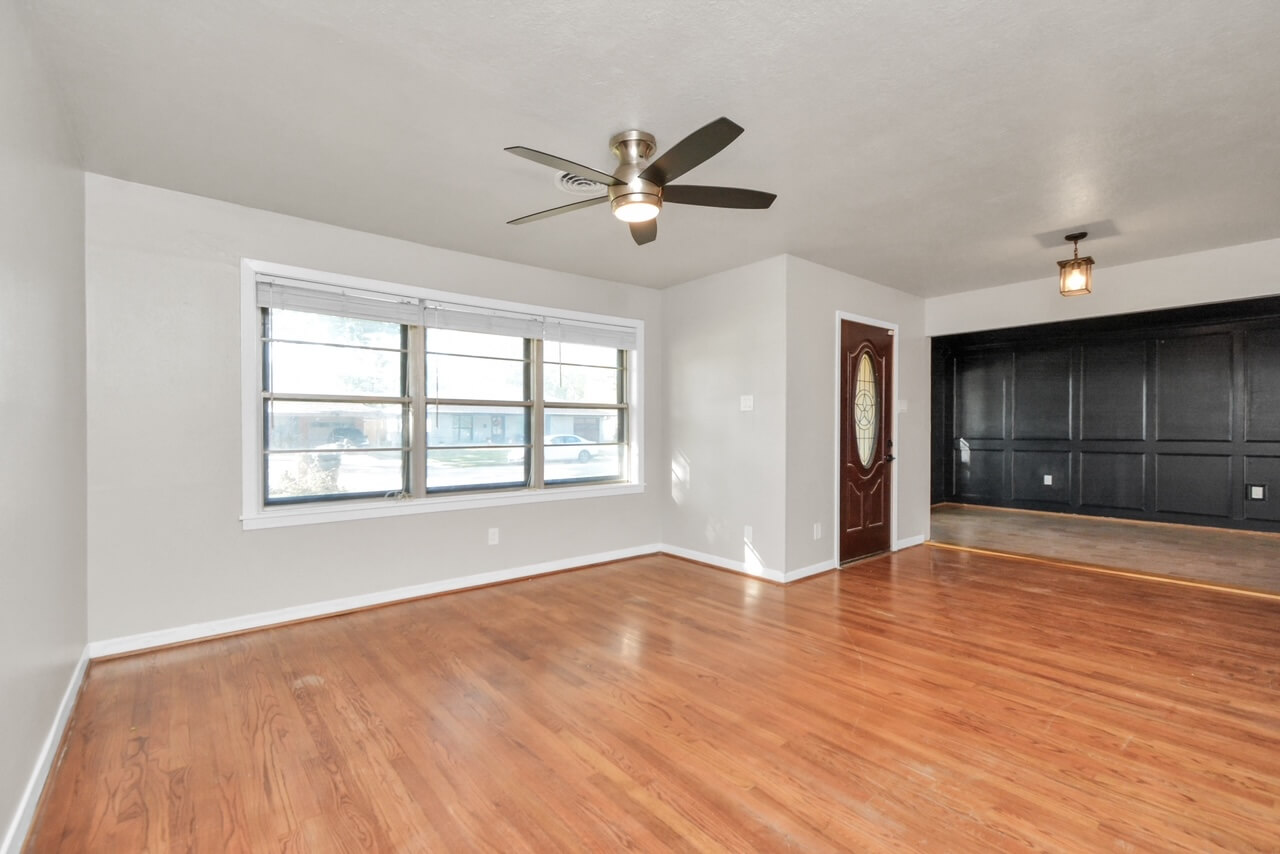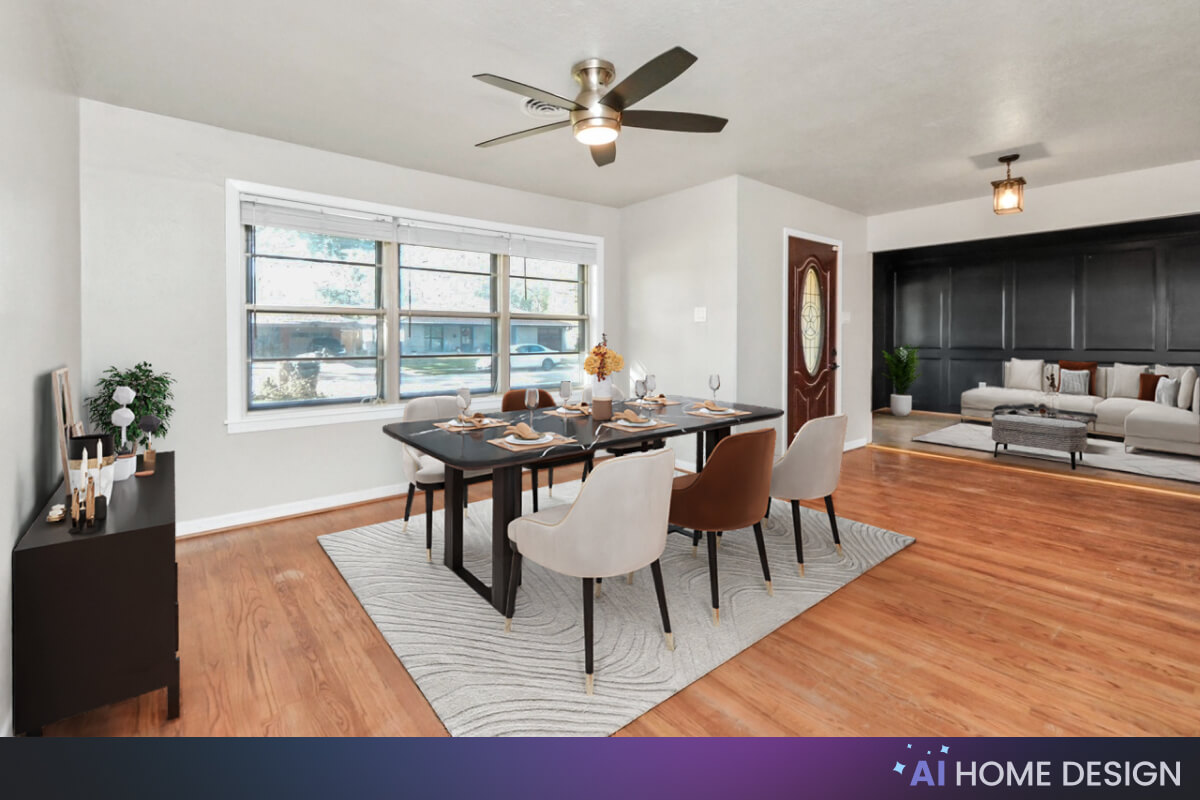 Virtual Staging: Which Rooms Should You Stage?
Given that virtual staging is much less costly than physical staging, you won't have to worry too much about the financial aspect of virtual staging. Even so, you might, for any reason, decide to stage only some of the rooms.
In doing so, you should prioritize the rooms that matter the most to buyers. Well, we can here rely on the available statistics on home staging which are as follows:
For %39 of home buyers, the living room mattered the most;
%36 of buyers believed that the primary bedroom was more important than all;
%30 of them held the idea that the kitchen should be staged.
Based on this information, if you want to virtually stage your home, you should prioritize the living room, the primary bedroom, the kitchen, and the dining room over other spaces. However, as virtual staging is an expensive service, you might want to do it all in one go and stage the entire house for best results. The table below shows the importance of staged rooms in from the viewpoint of home buyers.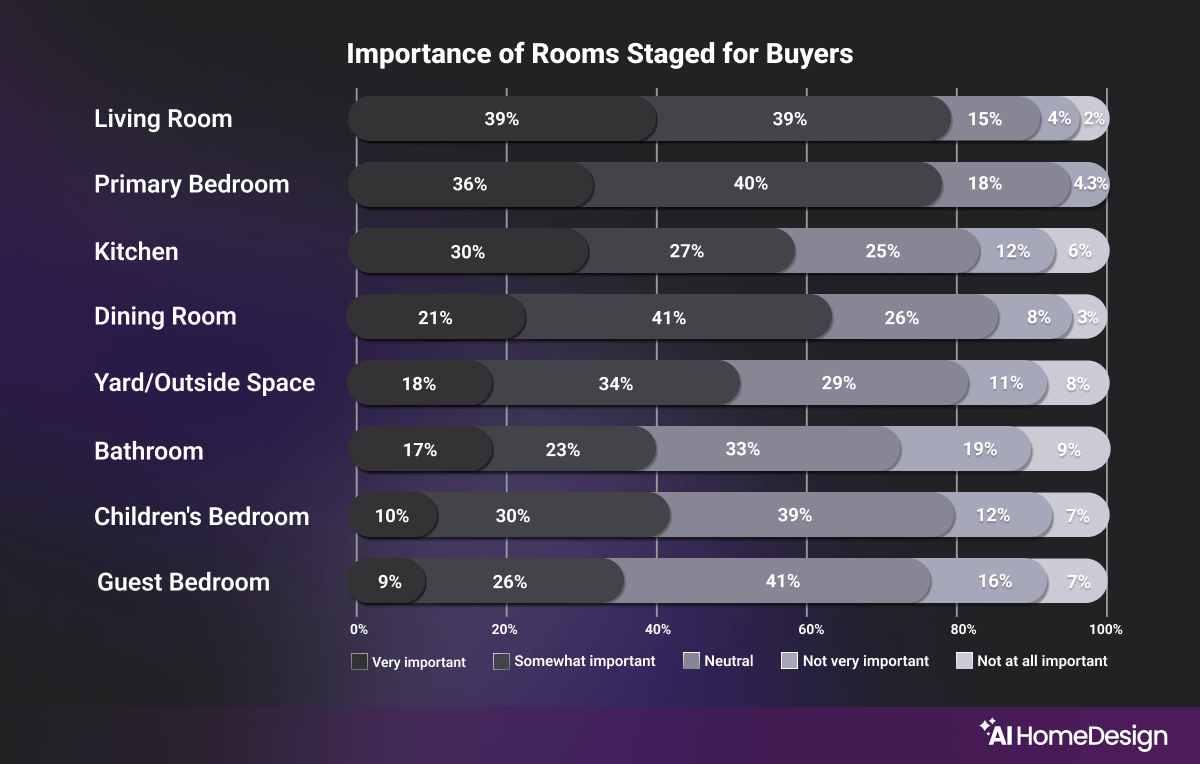 Virtual Staging Statistics: The Financial Aspect
You may know this already. There is no set pricing policy for real estate photo editing companies to follow. As a result, there is a big difference between the prices they charge for virtual staging. The table below is a good example of the vast discrepancy in virtual staging costs (per photo) in 2023.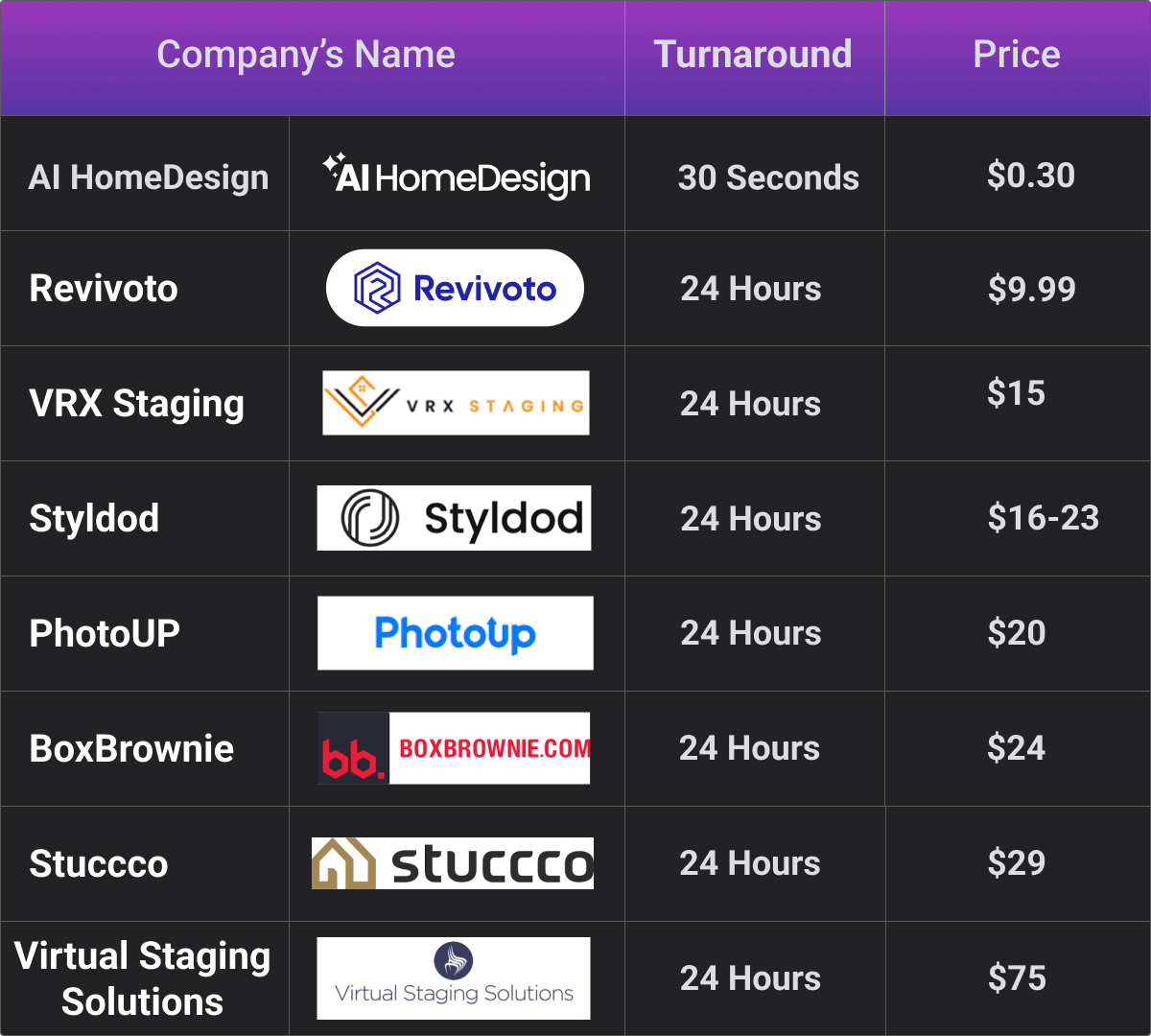 The Magic That is AI HomeDesign
What we discussed above and what all the numbers point to in this field are the impactful trends of various media and practices of visual marketing in the real estate industry.
Now, if we consider all these visual marketing practices as the cake, one is sure to look around for the icing. This is where we arrive at AI-powered visual marketing practices that are taking the real estate industrry by storm!
That's right. Artificial intelligence has penetrated the real estate industry, particularly its visual marketing practices, through its integration with various services, namely virtual staging ai, ai interior design, ai item removal, ai image enhancement, and day to dusk transformations.
Through the automation of numerous intricate implementations and techniques, the omission of time-consuming manual human labor, and the removal of numerous upkeep costs in different aspects, AI-based real estate visual marketing has dramatically cut costs to prices under a dollar and instantaneous turnaround times.
It's quite a change from the usual practices of real estate marketing, especially home staging and virtual staging that are both time-consuming in their own right. Thus, it's recommended that you try it for yourself.
In Conclusion
Many have already fallen in love with virtual staging. Given that it's been around for only a few years and the fact that it is not properly understood by home sellers, we can expect a much better appreciation of it in the next few years.
Virtual staging is the quickest and most affordable means of depicting a property in the housing market. We love it for that, and you should, too!
Virtual staging is most common in the United States and Canada. It's also becoming popular in the United Kingdom, Australia, Germany, and Singapore.
Virtual staging, especially virtual staging AI, needs a smaller marketing budget. On the other hand, it takes much less time than traditional staging, allowing for faster listing of the property.
Virtual staging is a common practice in marketing residential real estate but it could also be used to market commercial real estate. Bear in mind, though, that research suggests that with commercial real estate, videos are preferred.