The word "game changer" is probably somewhat overused in the world of business. But I can't think of a better term when it comes to ChatGPT in the real estate market. The dude is just like an adjustable spanner that only needs to be set up for the specific task we have in mind. Then, It'll take care of it better than you could imagine.
ChatGPT has already proven to be of excellent assistance to those related to the real estate business in one way or another. Today, we're gonna discuss some of the applications of ChatGPT in real estate and provide tips on how to write a ChatGPT prompt for real estate needs. Let's begin!
How AI Can Be Employed in Real Estate?
To get a clearer picture of various ChatGPT prompts in real estate, I have considered three aspects of the real estate business where ChatGPT has special applications. These include business, personal branding, and marketing. Let's start with the applications of ChatGPT in the real estate business.
Business
An excellent business assistant who does a lot and demands nothing. That's how I would describe ChatGPT in the real estate business. The stuff ChatGPT can do to help you promote your business is truly astonishing. To understand what I mean, just look at some of its applications in the housing market.
home valuation
A fascinating application of ChatGPT is estimating the value of a property. By analyzing property trends, historical performance, and market data, AI can tell you how much a property can sell for, approximately.
Keep in mind that, for this purpose, you must use the latest version of ChatGPT to get the latest data from the internet.

customer support service
AI-powered virtual assistants can manage customer queries and provide accurate information. Not only will this save you a lot of time, but it will also give your customers a good experience which will, in turn, promote your reputation as a trustworthy and caring agent in the market.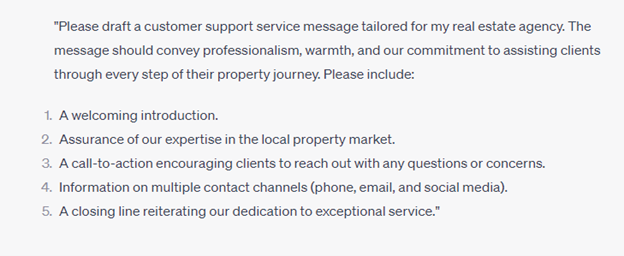 basic legal advice
Whether you are a realtor or an agent, you can work only in your jurisdiction and there are certain rules and regulations regarding real estate in each jurisdiction. To make sure that you're operating within the specified framework, you can ask ChatGPT to guide you on the legal aspects of your deals.
Also, you may not know some of the fundamentals of property law in other jurisdictions. Well, not that ChatGPT is a lawman by nature, but it can certainly help you learn about property law in other jurisdictions. This is especially useful to agents who, for one reason or another, want to relocate to a new city/jurisdiction.

Personal branding
As a real estate agent, you should strive to build a strong public identity to differentiate yourself from other guys in the housing business. This requires developing a unique personal brand that represents you as an experienced agent who knows his way around the market and has much to offer to anyone needing an agent. To establish a good personal brand, ChatGPT can assist you in the following ways.
blog writing
There are quite a few benefits to having a personal blog, no matter your job. As an agent, you could start a blog and write about important stuff related to real estate. You could write about home-buying tips, real estate investing, mortgage advice, and home improvement, and so on.
This way, you will establish yourself as a knowledgeable and trustworthy source in the real estate market. This way, more and more people are likely to know about you and contact you for their next transaction.
The good news is that with ChatGPT next to you, you don't have to spend so much time writing those blogs. You can ask
ChatGPT to suggest good topic ideas and then instruct it to write valuable, engaging blogs on those topics. What you get in the end is a well-structured blog post that takes a few minutes to edit and improve.

headlines for business cards
Business cards are among the old branding tools that have survived through the modern era pretty well. But apart from our phone numbers, personal information, and social media QR codes, we can and should include a sentence or two about the job we do best. A slogan or anything that tells the reader that we're special. If you can't think of anything, turn to ChatGPT for help.
You'll not get disappointed!

writing catchy bios for social media
As an agent, you should use "every" space you've got to promote yourself. This includes the "bio" section of your social media account too. And what could you possibly write there that couldn't exceed 60-90 characters and still entice a potential customer? Well, ask ChatGPT to help you, and you'll be relieved.

Marketing
Another aspect of the real estate business in which ChatGPT can be very practical is marketing. ChatGPT can be employed for various marketing purposes:
social media captions
Anyone using social media reads a dozen social media captions every day. Although these captions are somewhat short, writing smart, quirky ones is really time-consuming. Give it a try, and you'll see what I mean.
You can ask ChatGPT to take care of the job. Building on millions of social media captions, ChatGPT never ceases to give you compelling captions that your followers/subscribers would certainly love as well.

email marketing
Email marketing is still a well-advocated marketing strategy that smart real estate agents never underestimate. Analyzing user behavior and preferences, ChatGPT can develop the best piece of content that is highly likely to engage your target community and give them reasons to reach out to you.

video scripts
The use of ChatGPT prompt for real estate is not limited to written stuff. ChatGPT can help you with video scripts as well.
Just give it the right prompt and it will give you a nice attractive script that you can embed in the video as a subtitle or an audio track.

property listing description
ChatGPT is really good at writing property descriptions.
Just give it the essential information such as the age, size, location, number of rooms, and other features of the property, and it will give you an appealing description of the property that you'll certainly love.

Closing the Case: ChatGPT's Real Estate Resonance
To write good prompts for ChatGPT, you need to provide it with enough information and explain to it what exactly you want. Otherwise, it will give you something which is only partially related to your task.
Learning how to write a ChatGPT prompt for real estate will help you in many respects. I believe the samples provided above gave you a clearer picture of how to write a CHatGPT prompt for real estate and, more importantly, how helpful it can be to real estate agents or anyone involved in the real estate industry, for that matter.
Disclaimer: This article provided prompts to utilize ChatGPT for real estate purposes. While ChatGPT is a powerful tool, it's essential to understand its limitations as well. For certain queries, you must use the latest version of ChatGPT, or else, you can't put much trust in the information it provides you.
While ChatGPT can provide general knowledge of real estate legal concepts, it is not a substitute for professional legal advice. Real estate laws vary by region and can be complex. Moreover, ChatGPT's last training data is from 2021, so it might not reflect recent legal changes.
No, Because ChatGPT doesn't have predictive capabilities for future forecasting. To accurately forecast market status, realtors and investors should rely on up-to-date market data, specialized software, and insights from industry experts.