Imagine a world where you can effortlessly stage any room, experiment with various styles, and captivate clients with breathtaking visualizations. Today, RoomGPT has become an accepted name in ai interior design and can transform your images in a flash, but other alternatives present new opportunities.
From sophisticated AI algorithms that generate hyper-realistic renderings to immersive technologies that convey clients into virtual spaces, AI-powered platforms are intended to change the interior design landscape.
Some RoomGPT alternatives include:
RoomsGPT.io
Roomify.AI
ReRoom.AI
SofaBrain
REimagineHome
CoolAIid
HomeDesignsAI
This article reveals various innovative RoomGPT alternatives and AI-powered interior design tools.
Real Estate Interior Design Made Easy
Using AI platforms is simple and doesn't require previous interior design knowledge or AI technology expertise. You can easily submit a picture of your space by verifying your email or signing into your account on the company's website.
You may use these platforms based on your specific requirements. They conveniently benefit homeowners who want to redesign and remodel their spaces. As for interior designers who want to swiftly develop and showcase design ideas to their customers, such online services can be a go-to solution. And for real estate agents who want to present a property with beautifully decorated rooms, accessible and efficient photo editing platforms can be the difference between sweet deals and lost buyers.
RoomGPT: An Interior Design Heavyweight
Today, with the help of AI-powered platforms, you can easily change your space, but how do you arrange a beautiful room with RoomGPT? You can simply take a picture of your room, specify its type, and choose from a selection of styles, including Modern, Minimalist, Professional, Tropical, Vintage, Industrial, and Neoclassic.
Using cutting-edge technology, RoomGPT precisely identifies your room's existing structures and elements and applies various changes, such as shifting the layout, placing furniture, and enhancing the lighting, all in a naturalistic manner. To assist users in visualizing their ideal environment, this service creates images with various layouts, changes in wall colors, or new furnishings.
But even though it's highly useful, RoomGPT is also flawed and has some limitations. For instance, RoomGPT does not provide color palettes, which can be valuable in creating cohesive and harmonious design schemes. Furthermore, some users have experienced difficulties with RoomGPT's object recognition, specifically with TV displays, windows, cupboards, and doors. These elements may be supplanted with other objects, such as replacing doors with cupboards or the television screen with a window.
So, you should look for other alternatives competing with RoomGPT since you don't want to spend resources on an imperfect or flawed service.
RoomGPT Alternatives: Competition in the Realm AI Interior Design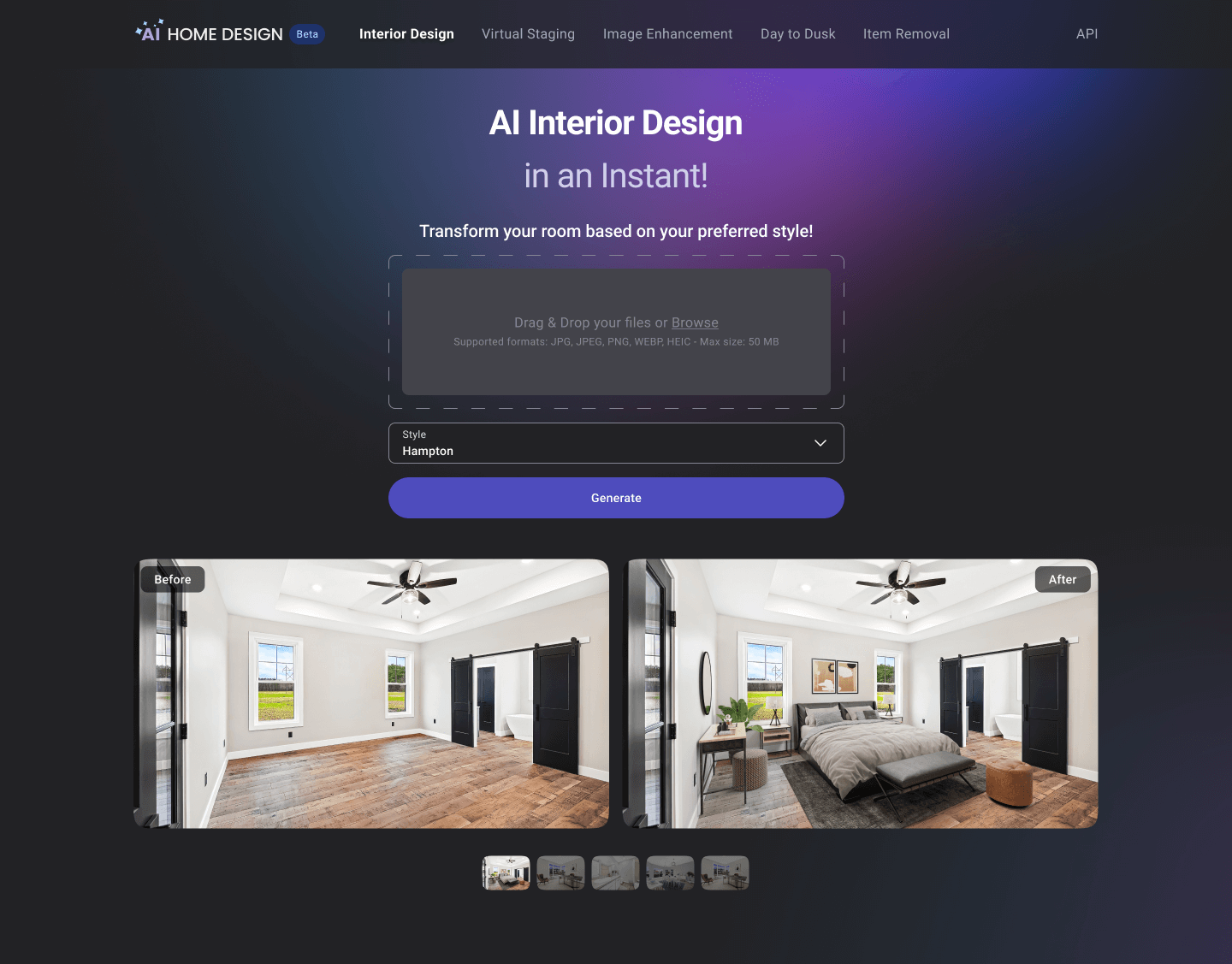 AI HomeDesign
AI HomeDesign provides five services, including item removal, interior design, virtual staging, image enhancement, and day-to-dusk. Our comprehensive interior design service at AI HomeDesign can elevate both indoor and outdoor pictures. This service uses an image as input and extracts features such as edges, depth, normal maps, and segmentation.
Whether you have a furnished space or an empty room, simply upload your picture and select from our six captivating styles. Sit back and relax as our service works wonders, transforming your image into a stunning visual masterpiece.
From modern and Hampton to farmhouse and contemporary, our styles are tailored to suit your unique preferences. For empty rooms, our interior design changes the color and texture of the ceiling, walls, and floor. If you upload a furnished room, you can see its magic in changing the interior design style.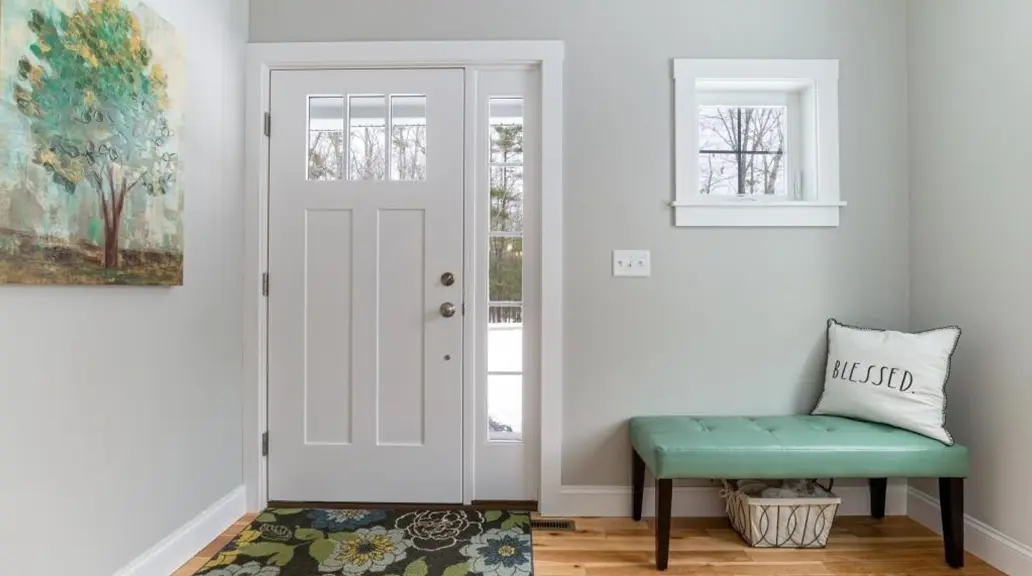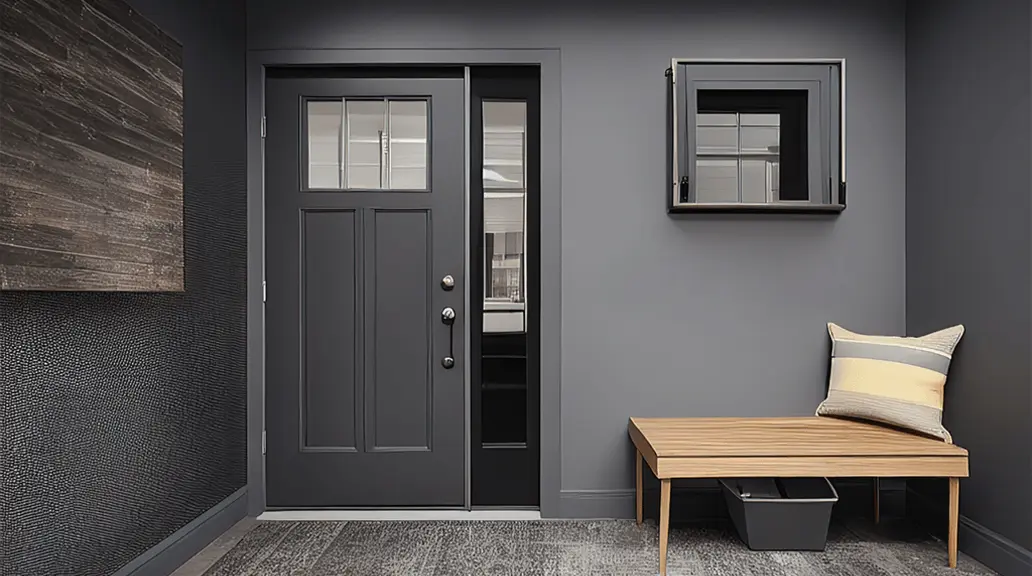 RoomsGPT.io
RoomsGPT.io is an online platform that provides users with unique AI-driven tools to create and visualize homes and rooms effortlessly. The tool enables users to choose room types and designs at no cost. RoomsGPT.io brings users' design ideas to life with breathtakingly realistic visualizations, allowing them to view their spaces from various angles and perspectives.
Their free plan includes limitless renderings, high-quality photos, and one image rendered at a time. Also, the platform presents a range of pricing plans to cater to diverse needs, granting users access to enhanced features, including faster and higher quality renders, increased images per render, and premium support for an elevated design experience.
Furthermore, RoomsGPT.io enables users to share their designs and photographs with others and provides a 3D virtual room view from all perspectives.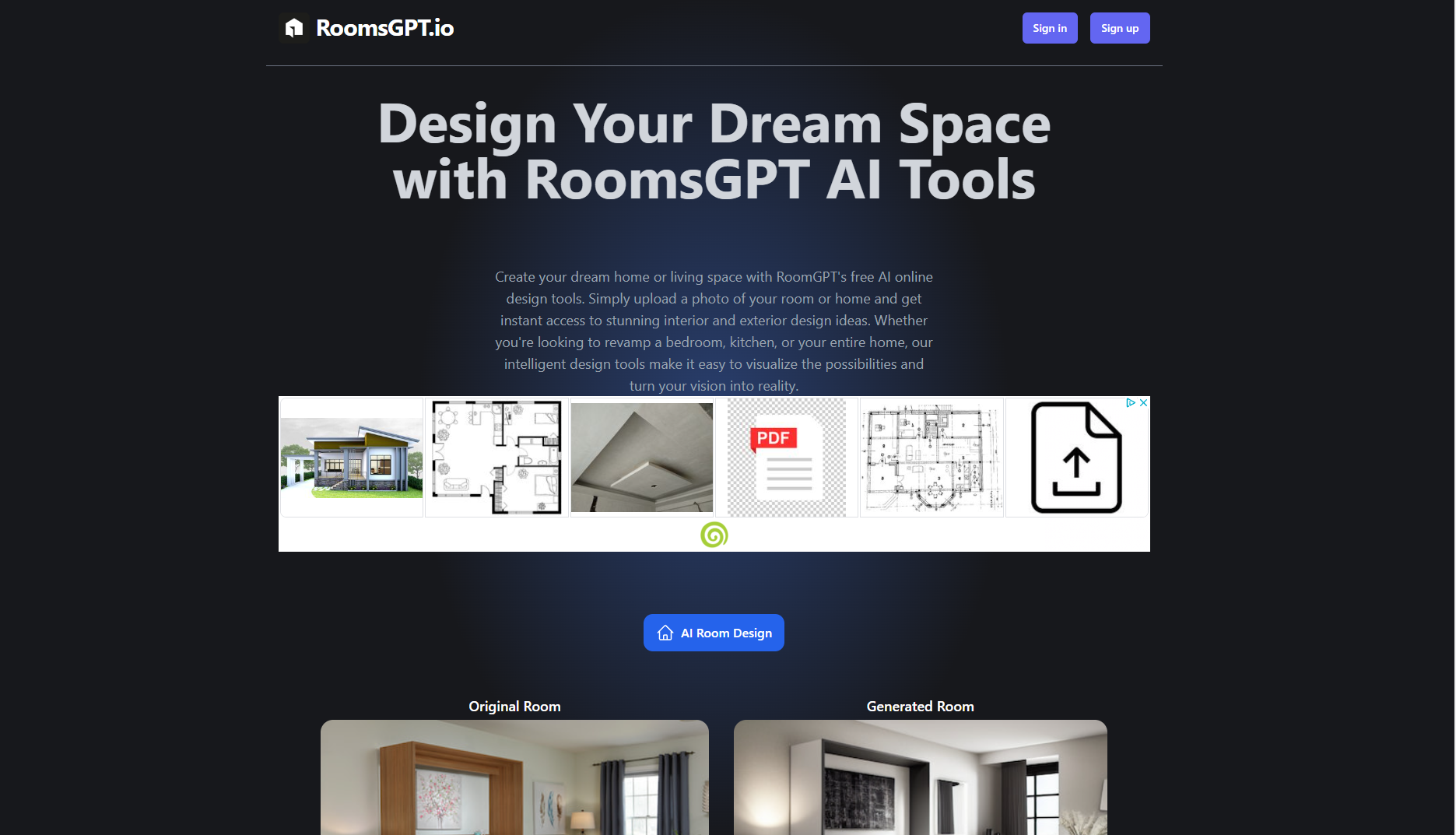 Roomify.AI
Roomify.AI is an incredible AI tool designed to assist users by quickly and easily creating various room styles and designs. Clients can simply upload their room's photo and choose the style and room type. AI will then swiftly generate diverse styles and designs in mere seconds.
Roomify.AI reduces the need for traditional interior design. The generated images appear very similar to the original ones, and the alterations are unrealizable. It can modify the color or texture of the ceiling or walls, as well as the color of the furniture, but it cannot completely change the style.
Roomify.AI has a user-friendly interface designed to help users visualize different room designs with ease. The AI remodeling procedure is fast and simple, requiring just a photo of the area and a few clicks to explore new design concepts.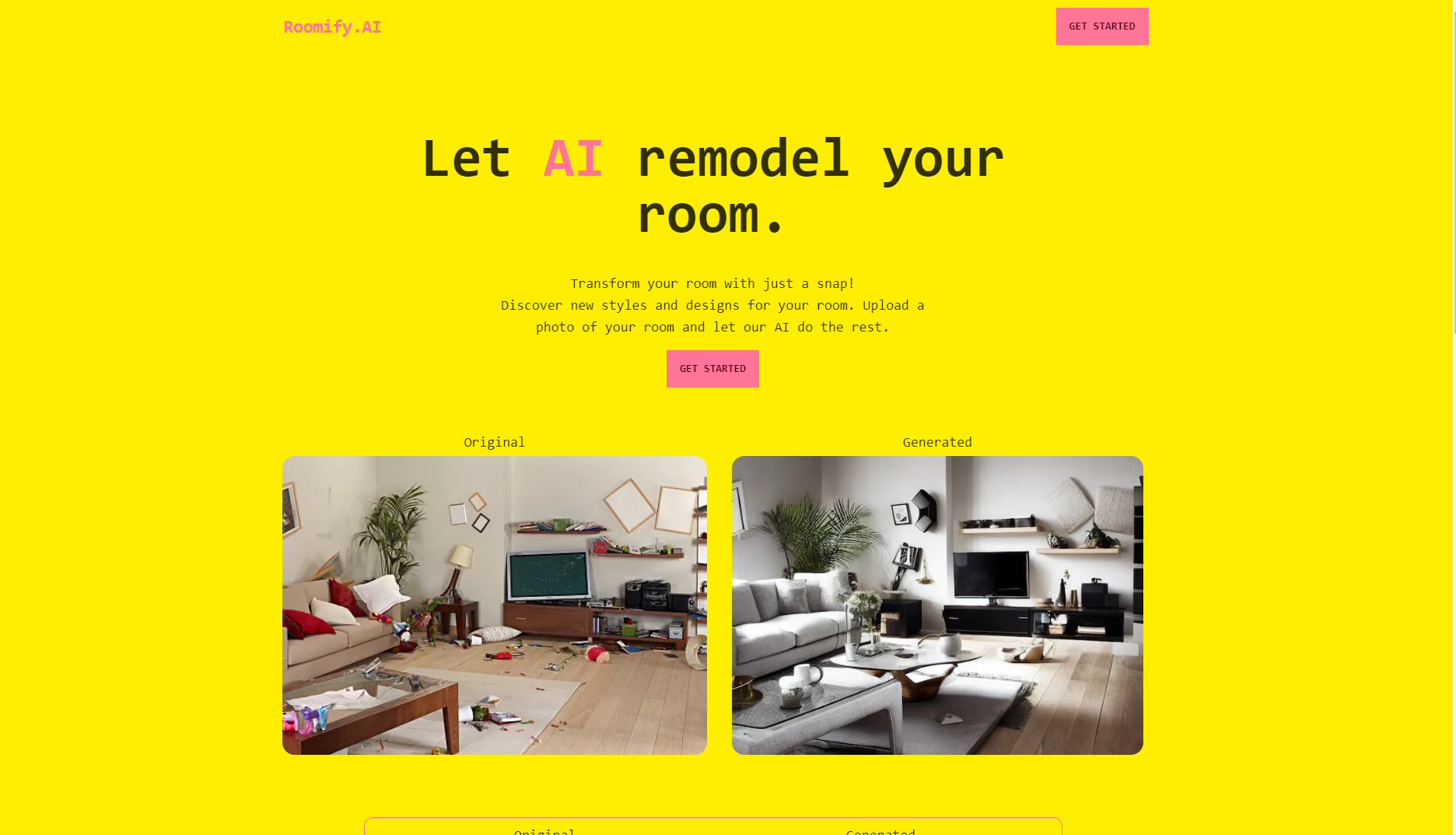 ReRoom.AI
ReRoom.AI allows users to transform their living spaces by selecting a design theme from more than 20 styles. This platform employs powerful algorithms to produce several design alternatives for a given area, allowing users to examine various design ideas before making a final decision. The generated rooms have various styles, ranging from Coastal Breeze to Desert Retreat, and are designed to suit a wide range of tastes.
Users can remodel their spaces quickly with this user-friendly and aesthetically appealing solution. You may also use Reroom.AI to convert a sketch into a realistic image. When using this tool, you have the option of changing the whole image, specific objects, or the background.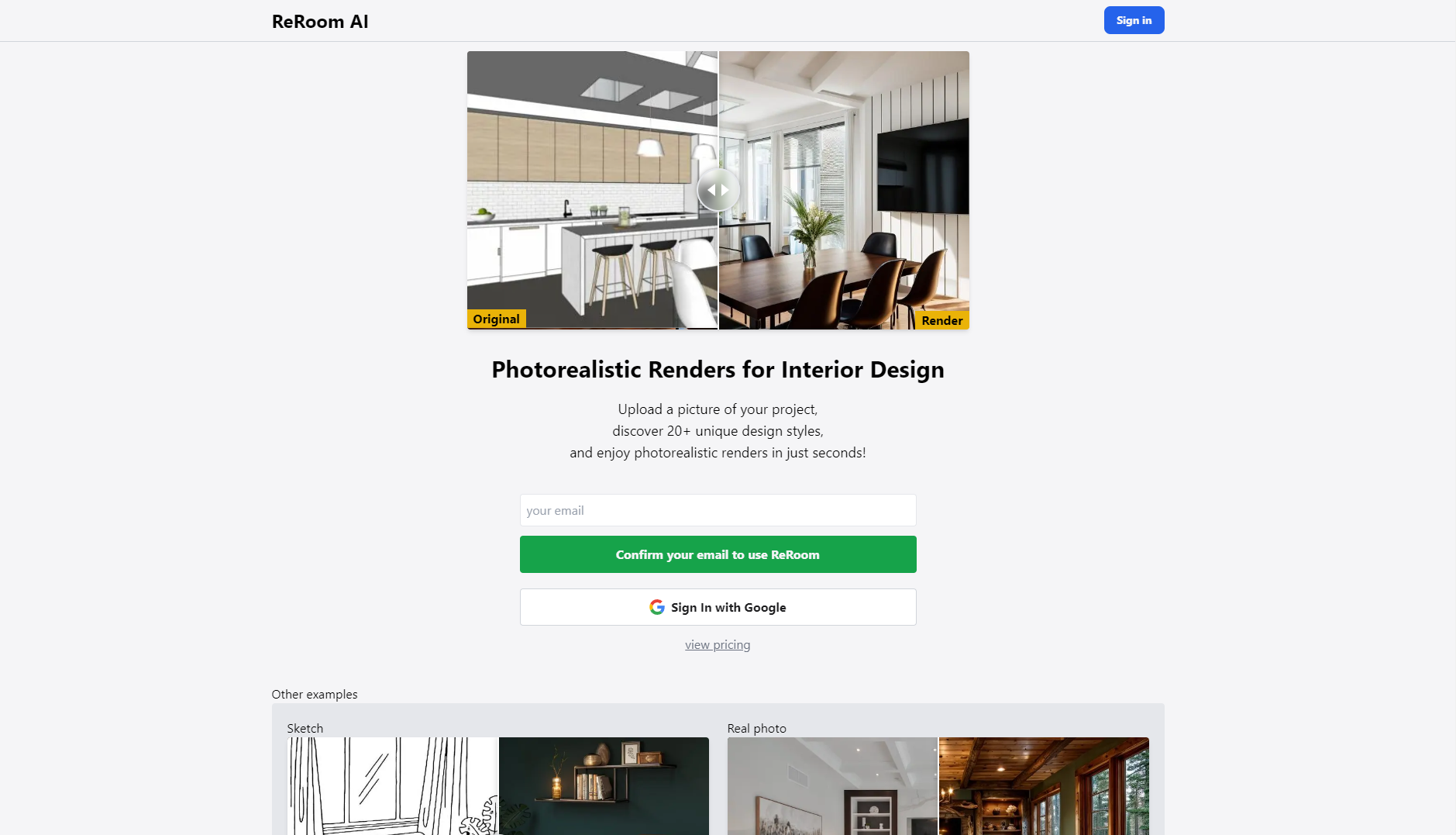 SofaBrain
This online platform allows users to upload photos of their empty or furnished space and receive personalized design suggestions within minutes. You can choose from different styles and colors and also explore recent designs by other users.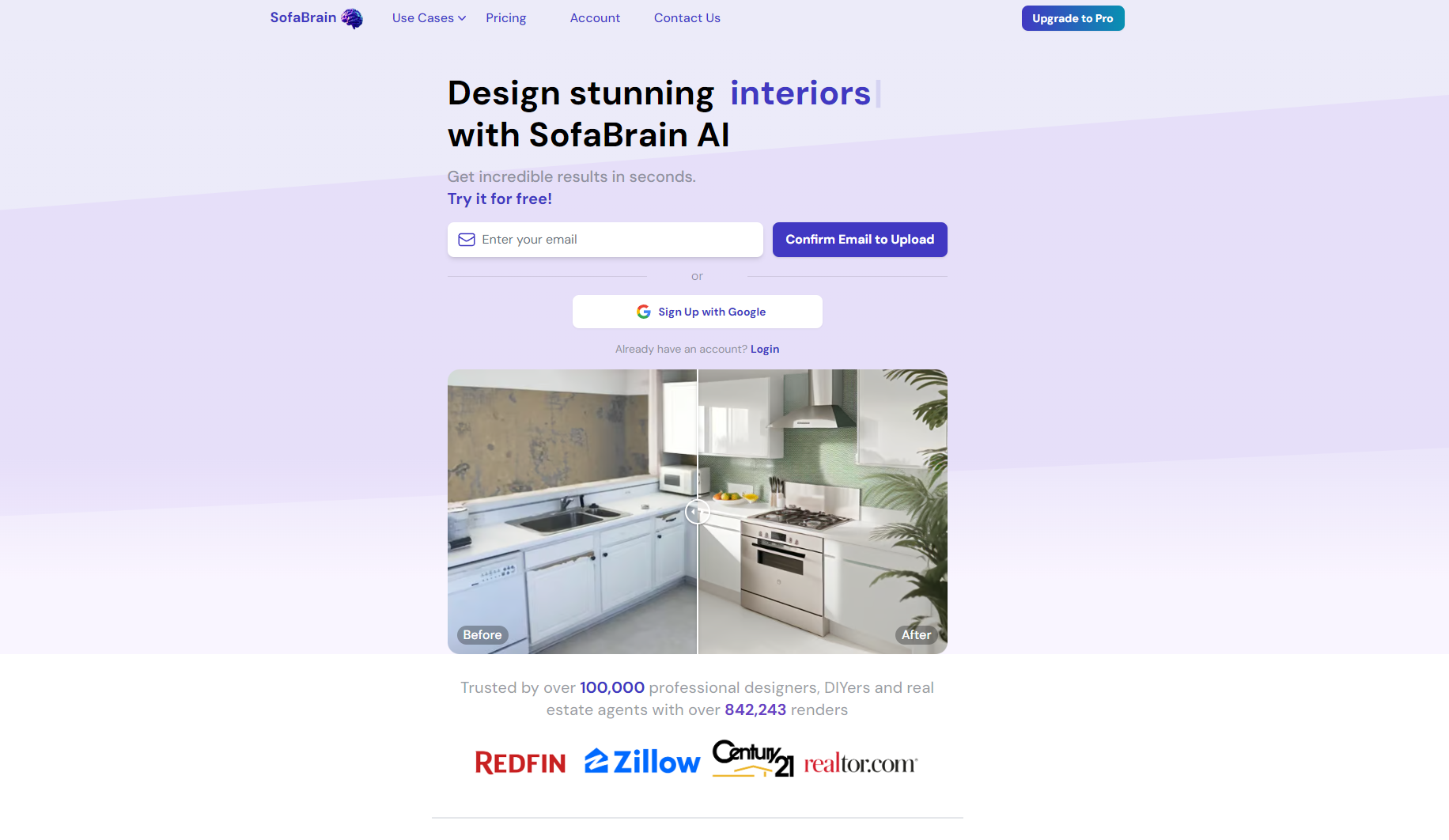 REimagineHome
REimagineHome is an AI-powered interior design service that allows users to redesign their homes with personalized design concepts and inspiration. This platform allows users to re-design furnished spaces and outdoor patios. It cannot stage photos of empty rooms because the algorithms should recognize the objects and replace them with new ones.
After uploading a photo, you have two options: "Suprise Me" and "Advanced Options." By selecting Advanced Options, you can alter the furnishings (color, room type, and design theme), and the Architectural Option allows you to change the color and style of walls, ceiling, and floor. It automatically masks all architectural and furniture elements and modifies them according to the user's preferences and text instructions.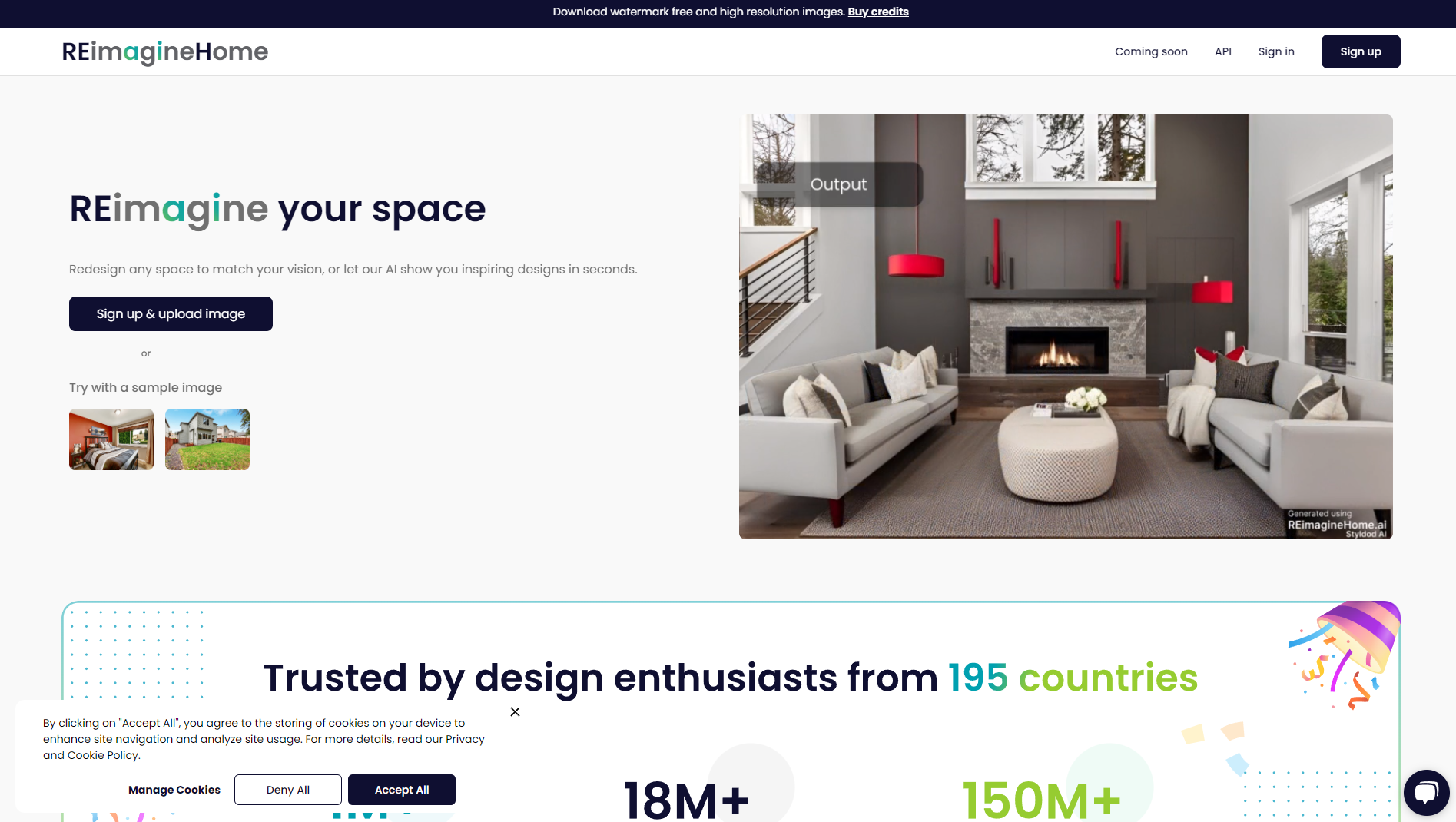 CoolAIid
CoolAIid is an AI-based interior design tool that allows users to change their spaces' style, decoration, and type. With over 20 distinct designs, users can get inspiration for any area and add elements such as carpets, gallery walls, and moldings. Additionally, the tool is very adjustable, allowing users to change the dimensions, colors, and textures of elements in their designs.

How Can Interior Designers Utilize AI to Their Advantage?
As an interior designer, if you integrate artificial intelligence into your work, you'll just be a few clicks away from improving the results and boosting productivity. Here are some ways to benefit from the immense capabilities of AI:
Virtual Reality (VR) and Augmented Reality (AR)
Interior designers may provide their customers with a one-of-a-kind experience by using AI-powered virtual reality and augmented reality technology. VR can provide virtual walkthroughs of spaces, allowing clients to visualize designs before implementation. AR can be used to overlay virtual elements onto real spaces, helping clients see how different furniture, colors, or textures would look in their actual environment.
Space planning and layout optimization
AI algorithms come in handy for interior designers to optimize space planning and layout. AI tools can analyze room dimensions, furniture sizes, and user preferences to generate optimal room layouts that maximize functionality and aesthetic appeal. These tools will save time and help designers experiment with multiple design possibilities quickly.
Image recognition and recommendation
AI can discover patterns and offer complementary design pieces by analyzing photographs of furniture, décor, and architectural features. Interior designers can leverage AI-powered platforms that use computer vision to identify specific styles, colors, or materials, helping them find suitable products or suggesting design options that align with the client's preferences.
Lighting design
AI is a powerful assistant in creating optimal lighting designs by evaluating room dimensions, natural light sources, and desired ambiance. AI-powered lighting design tools generate lighting layouts, recommend fixtures, and simulate lighting effects, enabling designers to achieve the desired mood and functionality.
Project management and collaboration
AI-powered project management tools can assist interior designers in streamlining workflows, managing tasks, and collaborating with team members and clients. AI can automate everyday organizational tasks and schedule reminders, allowing designers to focus more on creativity and client interaction.
Conclusion: RoomGPT is No Longer Unrivaled
RoomGPT is a remarkable tool for designing and visualizing home and room designs, but some alternatives are available on the market that cater to different needs and preferences.
RoomGPT alternatives bring unique features and strengths to the real estate photo editing and interior design table, offering users a range of choices for their design projects. These other services provide beneficial possibilities for users through their sophisticated customization options, user-friendly interfaces, or specialized functionality.
RoomGPT is a web-based platform, so all you need is a computer or mobile device with a modern web browser and a stable internet connection to access and use its features. There is no need to download or install any additional software.
AI HomeDesign specializes in creating highly realistic visualizations of room designs, utilizing advanced rendering techniques, lifelike materials, and detailed lighting effects to show the designed spaces accurately. In addition to its remarkable visual capabilities, AI HomeDesign offers five services to enhance indoor and outdoor areas, ensuring optimal improvements for your spaces.
Interior design involves using technology to create personalized, functional spaces by collaborating with clients and utilizing digital tools. It aims to provide long-term design solutions. Virtual staging, on the other hand, focuses on enhancing the visual appeal of vacant spaces for marketing purposes by digitally adding furniture and decor to images. It aims to help possible buyers or renters visualize the potential of a space.